Photo Gallery #6: The Base Today - 320th MMS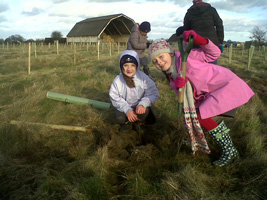 RAF Wethersfield is now a Ministry of Defence facility. It serves as the headquarters of the Ministry of Defence Police (MDP), which is a civilian police force within the Ministry of Defence.
In some of the outdoor photos in this gallery you'll see areas with a multitude of white stakes. These are young trees that were recently planted as part of the Woodland Trust's Jubilee Woods project. This project aims to plant 6 million trees and create 60 commemorative 'Diamond' woods across the UK as part of Queen Elizabeth II's Diamond Jubilee.
The photo at the right shows local schoolchildren participating in the planting, which happened in February 2013. Click here to learn more. (Photo credit: Herts & Essex Observer)