We Remember
Bob Criddle
Chuck Schabel reports that Bob Criddle has passed away. He spoke with Bob's wife Peggy and she confirmed that Bob died of Parkinson's on the 24th of August 2021 - just 7 days short of his 85th birthday. Bob served in the Air Force for 22 years before his retirement and he and Peggy were married for 60 years.
Ken Fleeman
We were recently informed by Janet Fleeman that her husband Ken passed away on April 28, 2021. Ken worked in the squadron from from May 1967 to May 1970. He was a great guy and will be greatly missed. Click here to view his obituary.
Jim Jenkins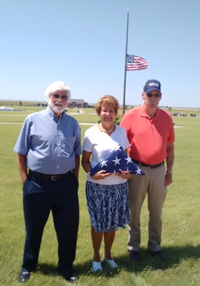 Jim passed away on January 11, 2018 surrounded by family. He had been suffering from Alzheimers and was in a care facility in Colorado Springs. Jim and Marie attended our reunions in Des Moines, Tucson, and Albuquerque. Jim's wife Marie came to Denver to join us in 2017.
Jim was laid to rest on July 10th at the VA Cemetery east of Alliance, NE. Photo at right shows Marie Jenkins holding the flag from Jim's funeral. Representing the 320th MMS were Steve Linebarger on the left and Paul Baker on the right.

Buzz Simpson
Paul Baker reports that Buzz Simpson passed away on April 22, 2013 at age 81. He had retired from the Air Force in 1968, married and eventually settled in Paradise, CA. Click here to view his obituary.
Gary Gebhardt
Sam Bothern reports that Gary Gebhardt passed away on May 24, 2003 at age 54. He was a 462 in weapons release, arrived in 69 and went to Upper Heyford when Wethersfield closed. Click here to view his obituary.
Ed Koulik
Ken Fleeman heard from Ann Koulik, Ed Koulik's daughter that Ed passed away this on September 14, 2014. Click here to view Ed's obituary.
Jerrell Lindsay
Jerry passed away on May 28, 2014 following surgery. He was in the 320th from 1966-69. He was retired from the Air Force and living in Louisiana at the time of his death.
Troy Dobbs
Troy Dobbs passed away on May 18, 2014. Troy went into surgery on April 7th and was in rehabilitation on April 16 when he started having problems. He was rushed to the emergency room but his condition deteriorated and he passed away a short time later. Click here to view Troy's obituary.
Thomas J. ("Chip") Monk
Tom "Chip" Monk passed away in 2004. Barbara Dobbs was searching for missing members and found an obituary for Chip, and subsequently confirmed this with the family. Chip lived in Klamath Falls, Oregon following the Air Force. He passed away in 2004 after a five year battle with cancer.